NEWS
09/2017
Emo Fair 2017
Watch photos
CLICK HERE
05/2017
Hannover Fair 2017
Watch photos
CLICK HERE
04/2017
Fastner Fair 2017
Watch photos
CLICK HERE
8/2016
HAPPY HOLIDAY
FILMS: Our offices are closed from August 15th to August 19th.

CELSIA:Our offices are closed from August 8th to August 22nd.

SCLEROS: Our offices are closed from August 1st to August 19th.

HARDITALIA: Our offices are closed from August 1st to August 19th.
from August 1st to August 5th, only Sales offices will open

DIAMIL: Our offices are closed from August 1st to August 19th.
from August 1st to August 5th, only Sales offices will open


3/2016
HAPPY EASTER
FILMS, CELSIA and SCLEROS: Office closure from March 25th to 28th 2016 inclusi.
HARDITALIA, DIAMIL: Office closure March 28th 2016.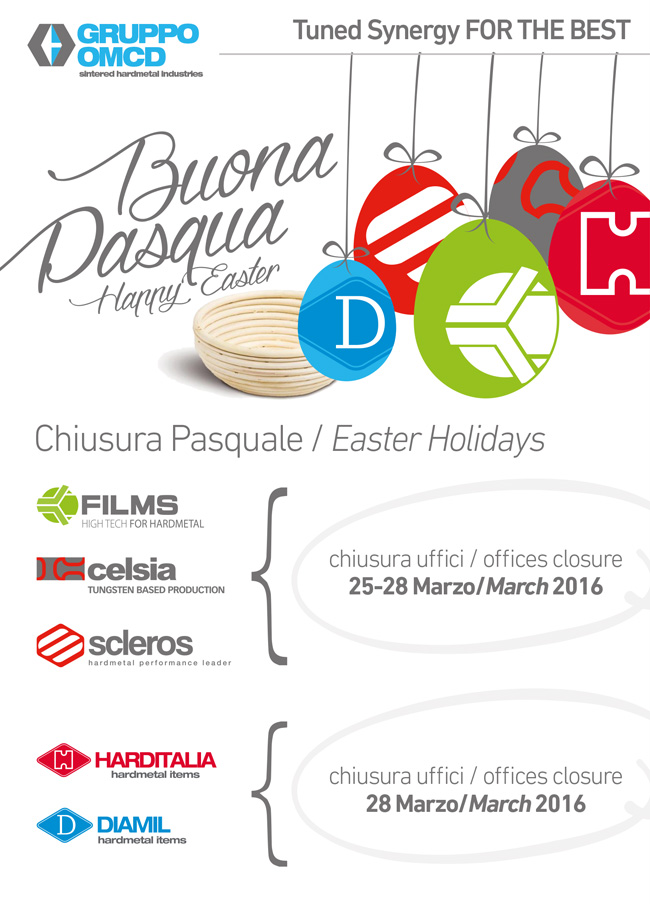 12/2015
ENJOY CHRISTMAS HOLIDAYS
Our offices are closed from December 23rd, 2015 to January 6th, 2016 included.
We'll be back on January 7th 2016.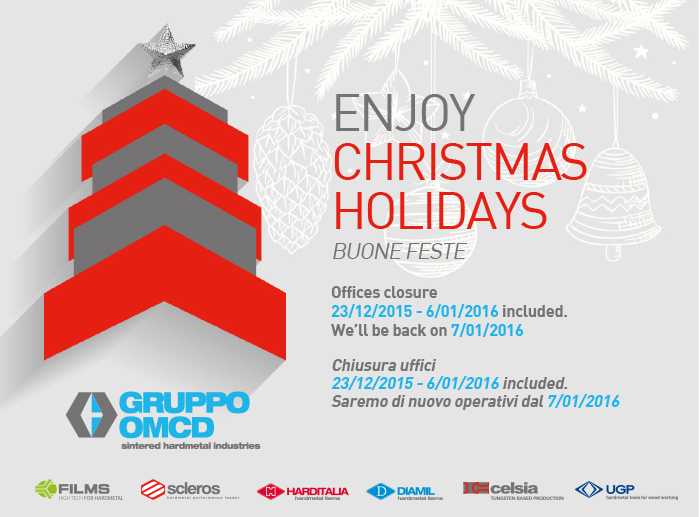 10/2015
SEMINAR – The milling of Hardmetal
During the day, will be presented the potential of hardmetal milling.
It will be possible to observe live tool working phase, measurement phase and control of pieces in order to verify the geometry and surface quality. Productivity and quality achieved by milling will be compared with the performance of wire EDM.
Working sessions: 09.30 am and 02.00 pm
For information and participation to the event, please contact: g.swiathy@omcd.it

Download the complete schedule of the seminar


06/2015
Celebrating the success of our brand
Right by your side. Since 1955 we have been working for innovative solution
in hardmetal applications.



Passion, knowledge and reliability for a product 100% made in Italy.

Visit our brand website:
www.filmshm.it
10/2013
Celebrating Celsia and Scleros
This year we celebrate the success of our "youngest brands"

Celsia was founded by Silvio Tedeschi and Antonio Bionda in 1963 and started the production of low-voltage electrical contacts thanks to the know-how and the technology of the associated company F.I.L.M.S., who was active in the sinters sector since 1955.
At the end of the 60's, Celsia began to produce composite materials made through infiltration (silver/tungsten, copper/tungsten), used both in the electrical and electromechanic field.

The experience acquired has allowed Celsia to develop a large range of sintered materials used in the electroerosion field and in the brazing through electrical discharge.
Thanks to the experience obtained in the brazing of electrical contacts, in the 90's Celsia extended its business, starting the production of silver base brazing alloys.

Today Celsia is specialized in the production of contacts for medium and high voltage; has innovative machineries , as the electron beam welding, whose brazing process guarantees results not achievable by the traditional brazings.
Celsia is a supplier of ABB, Schneider, Siemens, Luxottica ,Gerdau and Toshiba and others.

Scleros was founded in 1948 by Silvio, Emanuele and Riccardo Tedeschi and it is the first company in the history of the OMCD Group working in the field of high precision carbide tools for cold applications.
The name comes from the greek σκληρός "hard" that strongly express its identity.
The valuable know-how it possesses is the result of a strong collaboration with customers, continous investments in last generation machineries and a big passion.
Thank to that now Scleros works all over the world as manufacturer of customized hard metal special equipments.
Social responsibility: Conflict Minerals Policy